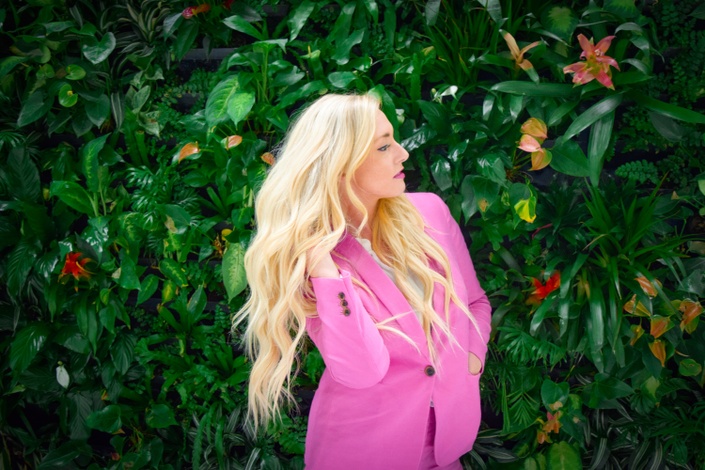 Hypnotherapy Professional Certification Course
Everything you need to know to become a certified practicing hypnotherapist
Watch Promo
This course includes all of the information, 1-on-1 session requirements, study manuals, and testing instructions required to become a Professional Certified Hypnotherapist. It is a collection of 3 sub-classes: Beginner, Advanced, and Master Hypnotherapy. The instructors will be with you at all points along the way and you can call them at any time to ask questions. Their information is detailed below. After graduating from this class you will be able to earn money and transform lives as a professional hypnotherapist! We look forward to helping you all along your journey.
HPC is licensed by the College of Professional Hypnotherapy, certified and recognized by the International Medical and Dental Hypnotherapy Association, and certified and recognized by Results Therapy International to teach and certify you in the practice of Hypnotherapy.


What You Get From This Course
A way to make money helping people transform their lives for the better. No prior experience is required!

Master the art and science of hypnotherapy and learn how to launch your own successful practice or integrate this with your existing practice.

Feel empowered and confident knowing you have the skills to heal yourself and others. Watch your success skyrocket as your clients achieve happiness and fulfillment.

Learn from Sheila and Walt, who are readily accessible and available to help guide you along your path. They will empower you to reach your goals with specialized support and encouragement.

Learn completely at your own pace from anywhere in the world. All course content is accessible online with mentorship available by video or audio calls.

Earn an HPC certification and confidently display to your clients that you have the knowledge and authoritative backing of an internationally recognized program.

Use powerful techniques to reframe core beliefs, habits, and emotions, leading to extraordinary, permanent relief from physical, emotional, and psychological pain.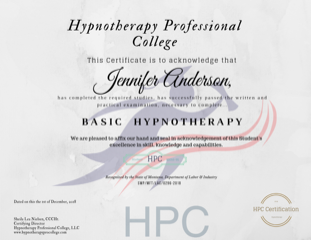 Frequently Asked Questions
When does the course start and finish?
The course starts now and never ends! It is a completely self-paced online course - you decide when you start and when you finish.
How long do I have access to the course?
How does lifetime access sound? After enrolling, you have unlimited access to this course for as long as you like - across any and all devices you own.
Will I actually see results in my patients?
Yes, absolutely! We understand that some therapy practices take time before results can be seen, but not with hypnotherapy. Hypnotherapy is one of the fastest ways to see real and lasting change in the people you serve.
Will I receive help in getting my practice running?
Sheila and Walt are available anytime via phone or email for advice on starting your own practice, incorporating hypnotherapy into an existing practice, and what to expect when patients come in.
What Students Are Saying...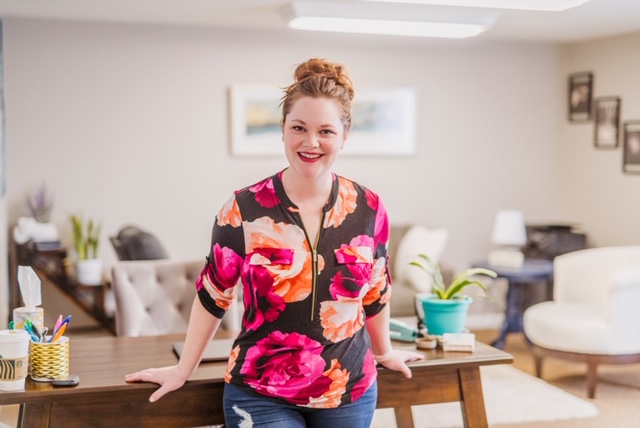 "I started as a hypnotherapy client, and the sessions changed my life. Hypnotherapy completely shifted my thinking, perceptions, and view on life, and I wanted to be a part of that journey for others. I made the decision to become a student with the Hypnotherapy Professional College. Initially, I struggled with self-doubt and questioned my ability to successfully progress through the program. With the constant support and guidance from my instructors, Sheila and Walt, my doubts soon faded. Not only did I love the curriculum and coursework, but I was also surprised to find how much I enjoyed learning from such fantastic teachers! I now have a full-time practice in Montana specializing in root cause work for people of all ages, and I especially love working with families. I am proud to say that I am a certified hypnotherapist registered with the IMDHA, and I have the Hypnotherapy Professional College to thank for my success! Whether you are seeking personal enrichment or a new career path, HPC is the clear choice for dynamic coursework, expertly trained instructors, and a quality experience!"

JENNIFER ANDERSON, CHT - Inner Wellness Hypnotherapy, LLC.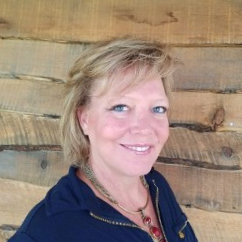 Instructor: Sheila Nielson B.A., CCHT
Hypnotherapist/Behavioral Therapist/Instructor for Hypnotherapy Professional College
Phone: 406-283-1839
In 1986, Sheila broke her neck and back in a car accident and was told she would never walk again. The next year, she was introduced to hypnotherapy--the experience changed both her outlook and the direction of her life. Sheila was able to use hypnotherapy, biofeedback therapy, and other alternative medical practices to make a miraculous and full recovery.
Sheila has been an executive and business owner for 27 years. She was also a successful brand development manager for companies such as Guess, Harley Davidson, Fletcher's Fine Foods, and many others. She was the founder and consultant for Divorce Consultants, where she helped keep families out of court by providing counseling for divorce disputes and custody arrangements.
Currently, Sheila is a co-owner of the Hypnotherapy Professional College (HPC) with her partner, Walter. Both are internationally clinically certified hypnotherapists with practices in Kalispell and Eureka, Montana. Together, they have created several personal development workshops, which teach people to let go of their emotional baggage and improve their lives by looking inward. Sheila and Walter also offer workshops to help people become calmer, happier, and more satisfied with their lives, jobs, and families. These very popular personal development workshops are offered on HPC's site as part of its online learning program. Current workshops include, but aren't limited to, the following: Self-Talk and How to Reframe It, Theory of the Mind, Vicious Circle of our Behaviors, Releasing Judgement, and Understanding the 5 Love Languages. They also offer special post-workshop intensive sessions in Austin, Texas.
Sheila wants everyone to be able to access information regardless of their current level of learning. She believes that many people have the interest to learn, but simply do not know where to begin. Keeping that in mind, HPC's program has been designed for everyone, no matter their age or education level. It is a fun, affordable way to shift consciousness and build a foundation of learning for personal and professional development--and beyond!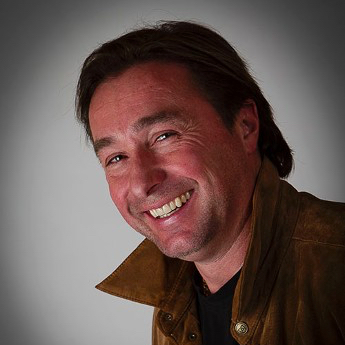 Instructor Walter Ernst, CCHT
Hypnotherapist/Behavioral Therapist
Phone: 406-334-0646
Walter has over 35 years of experience as an entrepreneur in construction and real estate. He also has over 30 years of experience practicing meditation and several other art forms, most notably martial arts. Walter is a kung fu master and an experienced martial arts instructor and competitor. He has dedicated most of his life to teaching others to control their emotions and is particularly skilled at helping people find ways to deal with their negative emotions and behaviors.
Walter has been a dedicated volunteer for the last 25 years and is passionate about helping the youth in his community. His youth outreach and volunteer work include hockey coaching, instructing kung fu, advising youth on their personal development, and providing divorce counseling. Walter has a communication style that allows him to connect with teens of all backgrounds and an exceptional understanding of teens who are at risk due to anger, depression, and being overactive. Walter utilizes his professional training and alternative methods of mentoring to help teens control their behaviors through meditation, kung fu, tai chi, and hypnotherapy.
Walter is a co-owner and one of the instructors of the Hypnotherapy Professional College. He is excited to introduce this new educational site that will help people enrich and improve their lives and find fulfillment in their careers. He looks forward to helping people learn to use better methods of reaction and leave their painful memories in the past. He specializes in helping teens, athletes, divorcees, and men with behavioral issues.
Courses Included with Purchase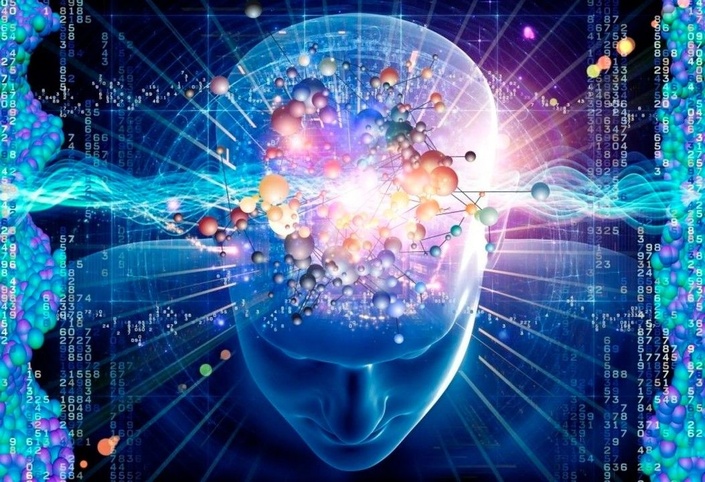 Basic Hypnotherapy Online Course
Get started with our Resistance to Results and Basic Hypnotherapy Course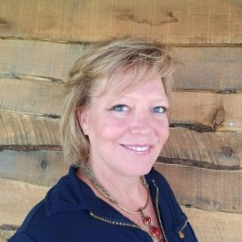 Advanced Hypnotherapy
Certification Program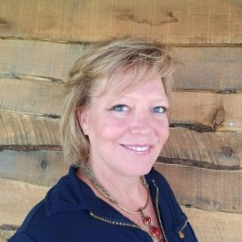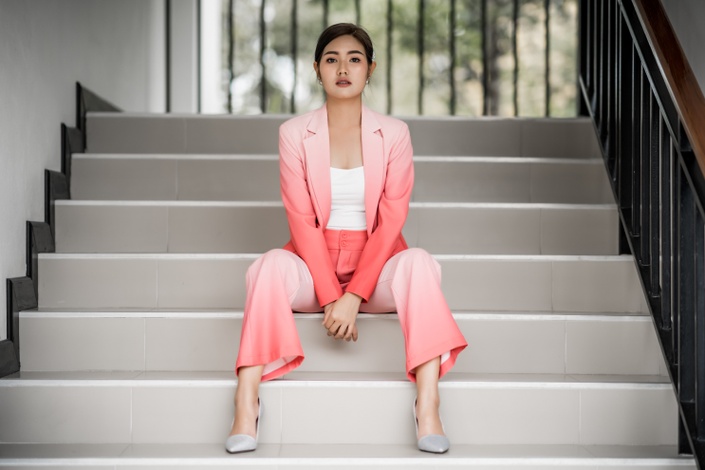 Master Hypnotherapy
Certified Master Hypnotherapist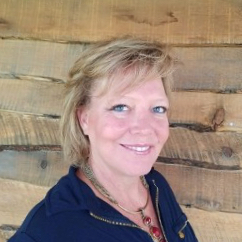 "I have just started the with Hypnotherapy Professional College coursework. The school is very well organized. The one-on-one coaching is invaluable, both Sheila and Walt are readily accessible and easy to get a hold of in a short period of time, if not immediately. They provide different perspectives of looking at what I am studying and learning. The videos are easy to follow. The work book is fantastic! I can see where all the course materials and resources will help well after I have become a Master Hypnotherapist. I highly recommend this course."
- Mary Collins, Montana